Join us for an evening of short plays featuring our 2014-2015 Apprentice Students
Sunday, September 13th at 7pm
Monday, September 14th at 7pm
Tuesday, September 15th at 7pm
Wednesday, September 16th at 7pm
Industry – please email [email protected] for tickets.
Featuring:
CoCoa Alexis
In Boston Proper, born and raised, at Catholic School is where she spent most of her days. Hopscotching, double dutching, studying all cool, daydreaming of a life in entertainment outside of the school. Then, the recession happened! It delightfully transitioned her focus and her thought, "Now's the time to do it!" CoCoa hosts comedy shows, performs on improv teams, appears on television and feature film, reads for Voice Over agencies, loves food communication, and natural remedies. Her ultimate goal is to bring joy to those around her. Download Resume
Liala Armstrong
Liala Armstrong has her BFA in acting from Montclair State University. She has also recently studied at UCB and with Brian Cichocki, Karen Kohlhass, and Ilene Starger in addition to being an apprentice with the Barrow Group.  She has recently been seen in a retelling of Shakespeare's "Hamlet" with Bottom's Dream Productions and just wrapped a short film called "Chopsticks".  She also has a new film project in the making- check www.lialaarmstrong .com for updates!  Liala recently became a member of Actors Equity and works with Bi-coastal MGMT. Download Resume
Ryan Black
Ryan is a North Carolina native, Georgia raised actor who moved to NYC to further his education and pursue his dream of being an actor. He is currently a student at the William Esper Studio and is also a member of the Apprentice Program at The Barrow Group. Aside from performing on stage in Atlanta he has also appeared in All My Children (Revival season) and Deception (NBC). Ryan would like to say thank you to God, his Mother, Father, Love and friends for their never ending support and encouragement. Download Resume
Emma Clark
Emma Clark is a California-born actor and singer with a B.S. in Culture and Politics from Georgetown University. Favorite credits include Macbeth, pool (no water), Urinetown, and Caroline, or Change. In NYC, she has worked with Labyrinth Theater Company, Ping Chong + Company, Theater Reconstruction Ensemble, NYU Steinhardt, and the Tribeca Film Institute and was recently seen as Second Witch/Malcolm in Macbeth with the Wombat Theatre Company and in the Outcasts cabaret at The Barrow Group. When not performing, Emma enjoys finding creative ways to travel internationally on a budget and writing poetry with The Warehouse Collective. www.emmanoelleclark.com Download Resume
Cronin Cullen
Cronin was born in New York City and raised in Connecticut. Growing up so close to NYC meant easy access to the rich culture, unpredictable adventures and inevitable trouble associated with city life; he knew he was going to start his career here. What that career would be was to be determined. After graduating the College of Charleston with a business degree, Cronin moved to Manhattan and got a proper nine to five. Something never felt quite right after he took his first acting class in college, so he decided to explore this interest further at the Barrow Group. This is where his true passion was uncovered and quarter-life crisis was quelled; Cronin found what he wanted to do for the rest of his life. Since then Cronin has been featured in an original stage production, various film projects and continues to hustle to improve his craft and further his career. He is honored to be a part of the 2014-2015 Apprentice Program and wants to thank his fellow Apprenti for their friendship and guidance. Enjoy the show! Download Resume
Kyla Noelle Haggerty
Kyla Noelle Haggerty hails from the North Shore of Massachusetts and currently resides in New York City while pursuing a career as a writer/actor. After having trained as an actor at Circle in the Square and Walnut Hill School for the Arts, Kyla attended and graduated from Harvard University with a degree in Government, specializing in matters of Social Policy. Download Resume
Sophie Hirsh
Sophie Hirsh is an actress, comedian, and writer. She has performed on Off-Off-Broadway stages and in several short films and web sketches. She is in the advanced study improv program at the Upright Citizens Brigade, and she regularly performs around the city with the improv teams Hephaestus and Hot Medicine. Sophie has written articles for websites including Reductress and NY Blueprint. She graduated from Muhlenberg College in 2014 with a degree in Theatre and Media & Communication. Please contact her at www.sophiehirsh.com if you are interested in working together on any of the above! Download Resume
Jenny Hoofnagle
Jenny is originally from Houston, Texas, which is one of her favorite conversation topics. She holds a BFA from New York University where she studied at The Lee Strasberg Theater and Film Institute and Playwrights Horizons Theater School. Jenny's love for Musical Theater (a gateway drug to "straight theater") began at a young age watching Judy Garland films with her mom. Jenny loves watching re-runs of Friends  (all the time), going to Disney World, traveling to a new city (especially if it's European), checking out a fun new fitness class and cooking up a new recipe (she's also a bit of a smoothie aficionado). Jenny is extremely proud of the original cabaret she co-wrote, co-produced and co-performed in with her best friend of 15+ years called Girl Gets Gay, Gay Gets Drunk. Some of her favorite roles to date are Lady Capulet, Erma in Anything Goes, Kathy Seldon in Singin' in the Rain, and Hermia.  She is a member of the NYC Chapter of Theatre 68 (http://theatre68.com) in addition to being an apprentice here at The Barrow Group.
Bryan Lewis
Bryan Lewis is a transplant from Texas after receiving his B.A. in theatre performance. Bryan has been a part of many short films and web series including Adult-ish, Theseus, We are the Hounds and recent theatre performances include "Maddox" in Od and "Buzz" in 1969: A Space Oddity. Download Resume
Hunter Scott MacNair
Hunter is from California's Valley of the Moon. Recent roles include Angelo in Measure for Measure, Tybalt in Romeo and Juliet, Benvolio in Rough in Proof, Mr. Darcy in Pride & Prejudice, Owen Marshall in Semi-Monde, and Michael in Switch (film). He is a graduate of the Bristol Old Vic Theatre School International Program. hunterscottmacnair.com Download Resume
Anthony Massarotto
Anthony Massarotto is so grateful to have spent his first year in New York City studying alongside this talented group of actors.  He hails from Charleston, SC where he earned a BA in Music and Theatre from the College of Charleston.  Anthony has performed in several cabarets around the city, and produced "Outcast: A Quirky Cabaret", performed by members of this years Apprenticeship program.  His recent theatre credits include Saucy Jack & the Space Vixens (Booby Shevalle), Kimberly Akimbo (Jeff), and Twelfth Night (Sebastian).  He can't thank Seth and Lee enough for all the wisdom they have shared over the past year.  www.anthonymassarotto.com Download Resume
Erin McMahon
Erin McMahon began studying at The Barrow Group in 2013, right after she graduated from Marywood University with a B.A. in Theatre and minors in painting and English. She is grateful to have booked work in theatre and film while continuing to study acting. Some of her favorite experiences include joining the company of the Off-Broadway production of "The Greatest Pirate Story Never Told," and playing an aspiring rapper who acts like a Disney princess in the web series "Annie Cam." Erin sends love to her fellow apprentices, as well as her parents and nine amazing siblings! Download Resume
Tommi May McNally
After cutting her teeth in the Long Island Shakespeare Festival (Chorus from Henry V & Lady Macbeth) Tommi travelled the country performing with interactive acting troupe The Wandering Minstrels, who tell original stories through clowning, movement, music, and puppetry. Offstage, her body art has been featured in Elle Magazine, the Wall Street Journal, the David Letterman Show and numerous online publications. Tommi was trained in the classics by Richard Johnson (Chair Emeritus, SCCC). She was a finalist in the American College Theatre Festival (KCACTF) and the only person to have won both the Classical Acting and Comedic Actor awards. She will be performing in Bad Jews (Daphna) at the Actor's Theatre of Charlotte this Fall. Thank you Seth and Lee for encouraging the play. *Member of Actors' Equity Download Resume
Conor Seamus Moroney
Conor Seamus Moroney is a Massachusetts native celebrating his first year in New York. Prior to moving to New York, he had been working back and forth between the Boston theatre scene, New Hampshire, and the Berkshires. He was a member of Shakespeare & Company for five years, where responsibilities included being an actor and education artist where he spent four years as a director for the company's celebrated Fall Festival of Shakespeare. Favorite roles in the past include Richard Hannay in The 39 Steps, Andrew Rally in I Hate Hamlet, Benvolio/Paris/The Prince in Romeo & Juliet, and Mitch in A Streetcar Named Desire. While in New York he has begun doing voice over work, primarily with the students at NYU with various audio dramas, in addition to auditioning for as much as possible. Conor is a graduate of Massachusetts College of Liberal Arts, as well as training in Shakespeare & Company's Summer Training Institute in Lenox, Massachusetts and Barrow Group's year long apprenticeship. He continues to strive to become the best performer and artist that he can be. Download Resume
Andrew Nielson
Andrew Nielson is an actor, singer, cellist, and writer. As an actor, he has performed Off-Broadway, Off-Off-Broadway, and in several large regional houses, including the TUTS/KC Starlight production of Les Miserables under the direction of Fred Hanson. He starred in the independent sci-fi feature CAIHONG CITY, which filmed over the course of a year in New York City and Romania, bringing together a group of artists from all over the globe. Other film includes the feature film LOVER'S GAME, short film TIM, and several independent pilots. As a cellist, Andrew has shared the stage and studio with the top stars of today's Broadway, film, and pop music industries. Andrew's debut writing and directorial endeavor, a comedic church satire called Plant, has spent the last year touring across the United States, sweeping festival awards ceremonies and selling-out a screening block at the world famous Nashville Film Festival. Season Two premieres late this fall. For more information, visit www.andrewnielson.com Download Resume
Billy Nugent
Billy Nugent is from Charleston, South Carolina. He earned his BA in Theatre Performance from the College of Charleston, while graduating with honors in the fall of 2013. He is currently completing an Acting Apprenticeship at The Barrow Group. While in NYC, he has performed in two short films with NYU and he has recently been accepted into The Actors Studio Drama School at Pace University to earn his MFA in Acting. His favorite roles include: Eddie Carbone in A View from the Bridge (Best Actor: College of Charleston Center Stage's 2013-2014 Season) and Hadley Smith in Perfectly Normel People (Winner of the Theatermania 2013 Audience Favorite Award). Download Resume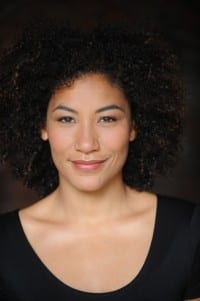 Naima Ramos – Chapman
Naima Ramos-Chapman is a Brooklyn-based interdisciplinary artist. Before apprenticing with master-teachers Seth Barrish and Lee Brock of at the Barrow Group. She trained on scholarship at the prestigious Alvin Ailey School for Dance for four years, worked as reporter, columnist and editor at various online news and opinion outlets on both the local and national level for a stint, and has appeared in several critically-acclaimed indie shorts and webseries in the last two years. Currently Naima is in post-production producing her first film "And Nothing Happened," in which she stars, directs and wrote. Download Resume
Daniel Clayton Smith
Daniel is thrilled to be a part of the apprenticeship program!!! He comes from Philadelphia, Pa and he studied Theatre at Kutztown University of Pa. Since moving to New York he has kept busy with the  actor's life of working when cast, auditioning and serving tables. He wants to thank Seth and Lee helping us all become better actors.  Download Resume
Bianca Soto
Bianca is a New York native stage and film actor. She received training from The William Esper Studio and in addition to her apprenticeship with The Barrow Group she is also a company member of the NYC chapter of Theatre 68. As a dancer she has appeared in the New York International Fringe Festival, Jacob's Pillow Dance Festival and at the Women's World Cup Opening Ceremonies. She has also been fortunate enough to have had two original short plays produced recently as well. Bianca loves dogs, baking, sci-fi/horror, 90's alternative, photography, trivia nights, discussing LOST theories, sports, and movie theatres that still have good popcorn. She also prides herself on her epic parallel parking abilities. Seriously. www.biancajeansoto.com
Carlos Souffront Adam
Carlos is interested in movement and dance. He graduated in 2009 with a B.A. in International communications with an emphasis in media production and studio art from Franklin University Switzerland, he has not stopped one minute, first in Paris where he was a student at the École Internationale de Création Audiovisuelle et de Réalisation (EICAR) from where he completed his MFA in Film Direction directing his first short film, then attended L'École Internationale de Théâtre Jacques Lecoq, after took courses at Delphine Eliet's École du Jeu (Acting School), a school designed to provide actors with professional training and where he learnt a fascinating technique entitled Technique de Confirmation Intuitive et Corporelle (Body and Intuitive Confirmation Technique), to finally return to Jacques Lecoq's school to the Laboratoire d'Etude du Mouvement (LEM) where he learnt set design after having being initiated to the Lecoq acting method in the one year evening course in 2011. Since summer 2014 he intensively takes daily classes at The Martha Graham School. The thread that links this journey is the omnipresence of the human body explored through movement. Download Resume