Purchase Tickets
JAN 12 – FEB 8
TBG Mainstage Theatre
K. Lorrel Manning's timely new play AWAKE boasts a cast of fifteen people from all walks of life engaging in intimate, life-changing conversations around the polarizing issues of the day, such as race relations, gun violence, police brutality, and immigration policy. AWAKE, captivating as it is provocative, puts its finger on the pulse of America's division.
---
ABOUT K. Lorrel Manning
K. Lorrel Manning (writer and director) is an award-winning writer/director, actor and musician. As a theatre director and playwright, recent projects include a new, critically-acclaimed adaptation of Henrik Ibsen's An Enemy of the People (co-written with Seth Barrish), The Unrepeatable Moment, and a revival of John Patrick Shanley's Danny and the Deep Blue Sea.

As a filmmaker, Manning recently wrote and directed three short films for Guggenheim Studios: The Great Love Rosemary, Pure & My Father's Heart. All three films had their world premiere at the Rhode Island International Festival (RIIFF). His first feature film Happy New Year, based on his critically-acclaimed play and award-winning short film of the same name, had its world premiere at the 2011 SXSW Film Festival, won multiple awards in the U.S. and abroad, and was released domestically by Snag Films.
Manning holds an MFA in Film from Columbia University – School of the Arts and BFA in Drama from the University of Georgia. He is an Adjunct Professor in Theatre at Sarah Lawrence College and teaches screenwriting, filmmaking, audition technique and advanced on-camera acting at the Barrow Group School.

MEET THE CAST
Vinny Baierlein is very eager to make his Barrow Group mainstage debut. He has been performing since he was eight years old, and recently moved to NYC from Coral Springs, FL. Being a patron of the arts, and a children's theatre educator, Vinny spends his summers working at Next Stop Broadway summer camp.
Hailed by critics as "wickedly funny" and "all verve and attitude," Nandita Chandra* is a multiple award-winning Off-Broadway favorite. She was last seen on stage at The Guthrie Theater. She's delighted to be a part of AWAKE at The Barrow Group. She received her MFA from The New School for Drama.
Ana Roshelle Diaz got her start at the Stella Adler Studio of Acting but has also been coached by Anthony Abeson, Larry Moss, and Sam Schacht, former dean of the Actors Studio Drama School. Ana has also had the opportunity to also learn from Ellen Burstyn and Estelle Parsons. TV Credits: CBS's Madam Secretary and BULL; Netflix: Orange Is the New Black.
Michael Giese is an award-winning actor, who has been seen on television in As The World Turns and Nurse Jackie, in multiple short and feature length films, most recently Life Hack, which won the Audience Award for Best Feature at the San Diego International Film Festival, the upcoming comedy series Eden and in numerous national network commercials. He has been seen on stage regionally and Off-Broadway in various plays including at The Barrow Group, most notably in a new adaptation of Henrik Ibsen's An Enemy Of The People by TBG's own Seth Barrish & K. Lorrell Manning.
Luka Kain* started his career modeling at 9 months old, appearing in ads for Disney and Baby Gap. He made his Broadway Debut at the age of 7 and fell in love with acting. Broadway: Runaways (Delacorte Theater), South Pacific, including First National Tour; Regional:  A Raisin in the Sun, Westport Country Playhouse; Off Broadway: Judy at the New Ohio Theatre; Off-Off-Broadway: A Little Night Music, Urinetown. Film: Saturday Church, opposite Rose Byrne. TV: Law and Order
: Special Victims Unit, Saturday Night Live, sang with Paul McCartney; NBC Rockefeller tree lighting, sang with Mariah Carey.
Garen McRoberts* is incredibly grateful to be joining The Barrow Group for AWAKE. Credits include: Mefistofele, Metropolitan Opera House; National Tours: Little House on the Prairie, Miss Saigon, Disney On Classic (Japan); Regional: Paper Mill Playhouse, Pioneer Theatre, Riverside Theatre, Skylight Opera Theatre. University of Michigan, BFA Musical Theatre. @mcrobertsgaren www.garenmcroberts.com
Madeleine Mfuru hails from Tanzania by way of New Jersey.  She is honored to be a part of the world premiere of AWAKE on the Barrow Group Main Stage. Her recent theater credits include: The Passion Of Kellyanne and Heart & Soul Yoga Beirut.  Maddy has acted in various short films and shot her first television pilot in June.
Sandra Parris* belief in the magic of the stage has led her to perform in a variety of plays, musicals, and operas in the United States and Europe. She is happy to be working at The Barrow Group and thrilled to be a part of AWAKE.
Jose Eduardo Ramos is a current student at The Barrow Group with Lee Brock. He can be seen in the film Convicted playing the role of Benjamin on Amazon Prime. He's the lead Detective Oliva in the upcoming feature True Drama and the antagonist Santos in the web series Bully. He's currently wrapping up the action short Revolvr in which he plays the lead character "Alain".
Born and raised in Detroit, Michigan, Eddie K. Robinson studied theater at Michigan State University, New York Conservatory for Dramatic Arts, The Negro Ensemble Company, and The Barrow Group. Most recent credits include The Blindspot (NBC), Law and Order (NBC), Jessica Jones (Netflix), Roxanne Roxanne (Netflix), Sling tv commercials.
Anna Russell is an actress, writer, and producer. Her short film An Air About Her screened at film fests, including Toronto Short Film and Adirondack Film Festival. All of her Off-Off-Broadway and film credits can be seen in their digital glory at www.annacrussell.com.
Julia Ryan* is grateful to be working with the talented team at TBG again. Over many years, she has acted in readings, plays and has contributed as a writer and solo-show creator. Feature Films: Tell Tale, 12 and Holding, Peepers. Shorts: Patricia on Her Birthday, Stand Up for Bastards. TV: Stankervision, Wonder Showzen. Off & off-off productions, stand-up, cabaret/singing, commercials and VO. Northwestern University, Gately-Poole Acting Studio and more. www.juliaryan.net
Trey Santiago-Hudson is delighted to make his Off-Broadway debut at The Barrow Group. A recent graduate of Binghamton University where he was featured in several MainStage productions. His favorites include: The Motherfucker with the Hat, A Lie of the Mind, Belleville, and Tartuffe. Trey also appeared in the independent feature, Vineyards, which is slated for a 2019 release.
Nelly Saviñon (U.S. Air Force veteran) is an actor and writer based in New York City. In theater, she made her acting debut in 2016 as Roberta in Danny and the Deep Blue Sea.  She was also in the musical, Blueprint Specials, which was part of The Public Theater's  Under the Radar Festival 2017 at the Intrepid Museum.  Her film credits include: An Air About Her, The Actor, The Big Time, My Father's Heart and The Light of the Moon, which is a SXSW 2017 audience award winner.  Her latest web series include:  The Accidental Wolf and Conversations in Apartment 3A.
*Member of Actors' Equity Association.
AEA Approved Showcase.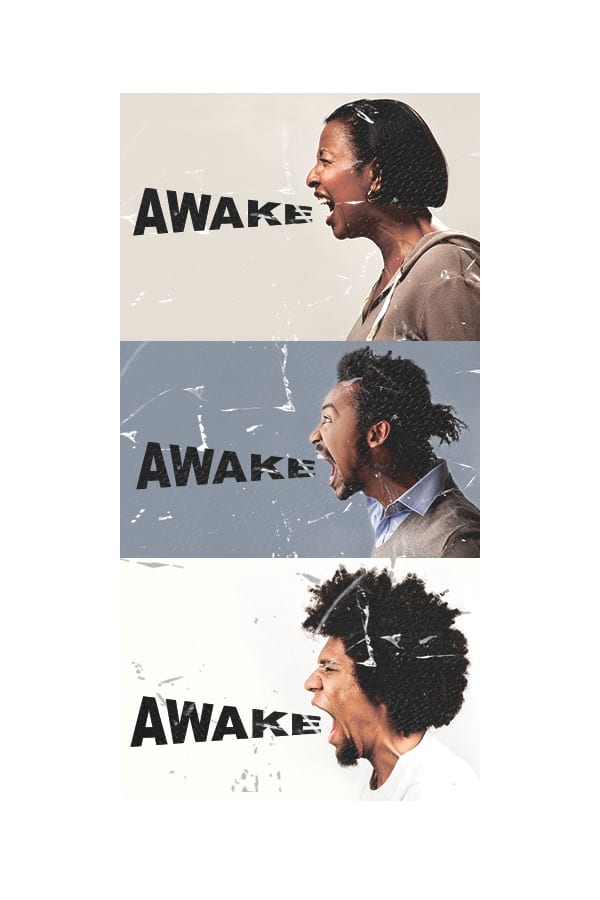 Art design by Leah Vautar.
AWAKE IN THE PRESS
MEET THE CREATIVE TEAM
Chika Shimizu (scenic design) is a New York based set and projection designer. Her design credits include The Winning Side (Epic Theatre Ensemble), The Naturalists (Pond Theatre Company), Vietgone (TheatreSquared), Buyer and Cellar (Bucks County Playhouse), The Caucasian Chalk Circle (Yale Rep, CT Critics Circle Award Nom. for set), Romulus The Great (Yangtze Rep), False Stars (Corkscrew Theater Festival), The Seagull (Access Theatre), Assistance (Joust Theater Company), Twelfth Night; Or, What You Will, The Visit (Yale School of Drama), Don't  Be Too Surprised, MuZeum (Yale Cabaret), Ching Chong Chinaman (Artists At Play), Romeo and Juliet, Tartuffe, and a number of dance theatre pieces (Cal State Fullerton). Chika has MFA in Design from Yale School of Drama. She is a recipient of Donald and Zorca Oenslager Fellowship Award in Design. Chikashimizu.com
Everett Clark (costume design) stage work includes Appendage, Your Name On My Lips, Ghost Light, Emansapation, MAAFA, Reserrection, Street Theater 16, Three Miles, Street Theater 15, Women of the Wind and Mula Jr. Film: Desi Shakespeare (currently filming), The Garden Left Behind (2016), Tango Shalom (2015), Fists of Love (2014), 36 Saints (2013), and Hip Hop High the Musical (video, 2010).
Daisy

 Long
 is a lighting designer for theater, opera and dance based in New York City. New York credits include: BAM, Atlantic for Kids, The Flea, Primary Stages, Abingdon Theater Company, Mason Holdings, HERE Arts Center, La Mama, NYU, AMERINDA, TADA! Youth Theater (National Youth Arts Award for Outstanding Lighting for The Perfect Monster), Manhattan School of Music. Regional credits include: Speakeasy Stage Company (IRNE Award for Best Lighting for The Scottsboro Boys), Kitchen Theatre Company, Yale, Connecticut College, Interlochen. She also works as a gaffer for indie film and music videos. USA 829 member. www.daisylong.com.
Matt Otto (sound designer): Credits include: Abigail's Party, Muswell Hill, Thing with Feathers, Enemy of the People - Barrow Group (NYC), Patron of the Arts, Nollywood Dreams, Esai's Table and King Lear – Cherry Lane (NYC),  Arden Everywhere/As You Like It LDK Productions (NYC), Triggered, Stained, and Armed - The Amoralists (NYC), Cadaver of Synod - New York Musical Festival (NYC), Empathitrax - Colt Couer (NYC). Regional: Our Town and Love Labour's Lost; Hudson Valley Shakespeare Festival (NY); Macbeth, Neil Gwynn, and Timon of Athens, Folger Theater, (DC); Fly, Alabama Shakespeare Festival (AL);  James and the Giant Peach, Lyric Theatre of Oklahoma, (OK); Stone Cold Dead Serious and Vibrator Play, Brown/Trinity Rep (RI); Stones in His Pockets, Yale Rep (CT); Johnny Meister and the Stitch, Solas Nua (DC and Helen Hayes Award nomination). Matt received his MFA  from the Yale School of Drama and his BFA from Boston University. To hear some of his work please go to www.mattotto.co
Addison Heeren (props master) is a NYC based Prop Master who is currently the Resident Prop Master at the Stella Adler Studio of Acting. Freelance credits include Abigail's Party, Muswell Hill, The Thing With Feathers (The Barrow Group), Fiddler Afn Dakh/Fiddler on the Roof, The Golden Bride (NYTF), Jersey Boys, Havana (NCL Bliss), Ordinary Days (Keen Company), A Clockwork Orange (New World Stages), Pericles (Public Theater), A Room of My Own (Abingdon), Street Children (Vertigo), First Love (Cherry Lane Theater) and Dolphins and Sharks (LAByrinth) Instagram: @propstitutenyc
Christine Cirker (Dramaturg, Additional Direction) is an Off-Broadway director and producer, focusing primarily on new work. Collaboration on AWAKE with Lorrel began in 2016, following her work on The R Word. NY directing credits include works presented by Lucille Lortel, F.A.B. Women@tbg, The Barrow Group, Pulse Ensemble, Core Ensemble, Neighborhood Playhouse, Our Workshop East, Resonance Theatre, Strawberry Festival and #MeToo Festival. Producing credits: Letters to Sala, The Basement Plays, The R Word, Downsizing, Einstein & Mileva, Danny and the Deep Blue Sea (directed by K. Lorrel Manning). Christine has produced for F.A.B. Women@TBG, the women's development group at TBG since 2010. Next up: Associate Producer for Renata Hinrich's Random Acts and Assistant Director to Lee Brock for the upcoming premiere of Perp by Lyle Kessler.
Stephanie Clark (production stage manager) is an AEA stage manager. Credits include New York: Unraveled (MBL Productions); Interstate (NYMF); Goldstein (Actors Temple Theater);  Fall River (Penguin Rep); The Rivals (New York Classical Theater); Daniel's Husband (Primary Stages); Regional: Greetings! (Pacifica Spindrift Players); Tour: Pinkalicious & Flight School (Vital Theatre Company); Two seasons with Chautauqua Theater Company. BFA from Adelphi University.
Glenn Girón (Assistant Director) Glenn is a New York City-based director/choreographer originally from Santa Fe, NM. He trained professionally with Lines Ballet, State Street Ballet, Boston Conservatory, Perry Mansfield, University of Oklahoma, American Dance Machine, and most recently in the 1-Year Director's Program with The Barrow Group Off-Broadway Theater and SDCF Observership Class. Credits include;  Assistant Director; A Walk in the Woods (The Barrow Group), Assistant Director; Ragtime (2nd National Tour), Director; The Boy and Waiting for the G (Hudson Guild Theater), Director; Black Standard (People's Improv Theater), Assistant Director; Monty Python's Spamalot(Surflight Theater). Associate Choreographer; Wild & Wonderful White's of West Virginia (Sound Bites 4.0 at Signature Theater), Director/Choreographer for various projects with TheaterWorks USA, including Curious George, Pete the Cat, Skippy Jon Jones, and Teacher from the Black Lagoon. Glenngiron.com
Jaclyn Lusardi* (Assistant Stage Manager)
Josiah Parsons (Production Manager)
DeShon Elem (Wardrobe Supervisor)
Arielle Beth Klein (Production Assistant)
Share your responses to AWAKE!
[gwolle_gb]